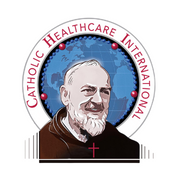 Saint Padre Pio, Institute for the Relief of Suffering, School of Osteopathic Medicine (*proposed-seeking accreditation)
A key pillar initiative for the Casa USA vision is the development of a truly faithful Catholic medical school that provides suitable formation for physicians and ancillary medical providers to practice as faithful Catholic professionals in our secular society. The Institute for the Relief of Suffering will be a uniquely Catholic medical school in the charism of St. Padre Pio and fully faithful to the Magisterium of the Catholic Church. The curriculum will include both the highest quality medical education for our students, and also critical fundamental Catholic components: Catholic medical ethics, the Theology of the Body, the Theology of Life, the Theology of Suffering, and Humanae Vitae.
Clinical rotations to St. Pio's Casa Hospital in Italy and exchange scientific & clinical lectureships will ensure that students enrolled in our Institute for the Relief of Suffering fully experience the healing charism of St. Padre Pio firsthand.
For more information, please contact Dr. George Mychaskiw or Jere Palazzolo.

Planned osteopathic school's graduates will bring the light of Catholic truth and bioethics to health care.

Medical assistance in dying (MAID) is set to expand in March 2023, extending eligibility to those with a mental illness.  
Dr. George Mychaskiw discusses the proposed St. Padre Pio Institute for the Relief of Suffering, School of Osteopathic Medicine.
FOR I HAVE COME TO BRING FIRE UPON THE EARTH
The Saint Padre Pio School for the Institute of Suffering, School of Osteopathic Medicine is an Independent, separately licensed, accredited, governed and financed entity that will reside on the campus of a Catholic host  University.  It is not part of the host university.  The Saint Padre Pio Institute for the Relief of Suffering, School of Osteopathic Medicine is proposed and seeking accreditation.  It is not yet licensed or accredited by any organization and does not have permission to recruit or solicit students, make offers of admission, or begin instruction, and nothing in this presentation should be construed as such.
MEDICAL SCHOOL LEADERSHIP
Founder & President of CHI; Founder & President of Marian Medical Services, LLC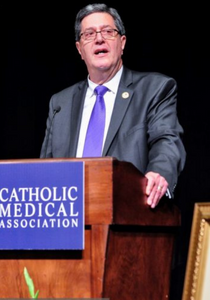 Mr. Palazzolo has over 40 years of experience in executive leadership and the delivery of healthcare services within organizations including major university-affiliated medical centers, hospital systems, rural hospitals, medical staff affairs, and outpatient and ambulatory services. Mr. Palazzolo received a Master of Healthcare Administration (MHA) from Washington University in St. Louis, Missouri, and has taken extensive doctoral and master level coursework in Healthcare Ethics and Pastoral Theology at major Catholic universities. He has presented at national and local forums, and has published several articles on current issues and trends in the delivery of healthcare services, physician practices, hospital/healthcare system strategy, and medical staff affairs.
Inspired by the "Work" and charism of St. (Padre) Pio of Pietrelcina, Mr. Palazzolo founded the nonprofit apostolate Catholic Healthcare International. On October 1st, 2009 this apostolate signed a formal collaboration agreement with Padre Pio's hospital in Italy, the Vatican-owned Casa Sollievo Della Sofferenza ( In English: The Home For The Relief Of Suffering) for the expressed purpose of duplicating Padre Pio's "Casa" as a model of truly faithful Catholic healthcare delivery in the United States and other areas around the world. Catholic Healthcare International is now pursuing the active implementation of its comprehensive Casa USA Three Pillar Program in the Diocese of Lansing, Michigan under the Episcopal leadership of Most Reverend Earl Boyea, Bishop of Lansing, that includes a faithfully Catholic medical school.
Dr. George Mychaskiw, II, DO, FAAP, FACOP, FASA
Founding President and CEO
Saint Padre Pio Institute for the Relief of Suffering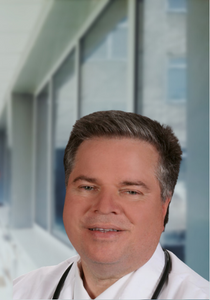 Dr. George Mychaskiw is Director of Perioperative Services, Professor and Vice-Chair of Anesthesiology at the Ochsner-LSU Health Science Center in Shreveport, LA. He received his medical degree from the Kansas City University, College of Osteopathic Medicine.  Dr. Mychaskiw completed fellowships in cardiac and pediatric anesthesiology at the Yale University School of Medicine, Yale-New Haven Hospital and was appointed as an assistant professor of anesthesiology in the cardiac and pediatric divisions at the Yale New Haven Hospital. He has also received training in hyperbaric medicine at the University of Texas, Galveston.
Mychaskiw is certified by the American Board of Anesthesiology, American Osteopathic Board of Anesthesiology and has been certified by the National Board of Echocardiography.
He is the author of numerous articles and book chapters and has been a visiting professor at many academic institutions in the US, Canada, China, India, the Philippines and Saudi Arabia. 
An authority in osteopathic medical education, Dr. Mychaskiw has been involved in the development of four Osteopathic medical colleges in the US, including the Burrell College of Osteopathic Medicine at New Mexico State University, where he served as Founding Dean and Chief Academic Officer.  Dr. Mychaskiw joined Salud Education to continue development of medical colleges to meet the health care needs of the country's underserved and vulnerable populations.
Father Timothy Nelson, MD
Board Member of CHI; Pastor, Saint Mary Star of the Sea Parish, Jackson, MI; Former Cardiologist
Dr. Edward Loniewski, DO, FACOS, FAOAO
Vice President of Development
Saint Padre Pio Institute for the Relief of Suffering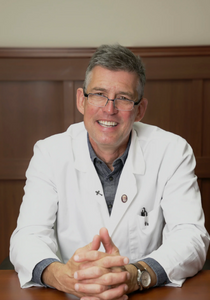 Dr. Loniewski attended Detroit Catholic Central High School and graduated from Michigan State University College of Osteopathic Medicine where he helped found the Student Osteopathic Medical Association Foundation and was awarded the Ciba- Geigy Leadership Award. He went on to a residency in orthopedic surgery through Michigan State University and graduated with numerous research honors such as the Andrew Taylor Still Medallion of Honor, the Alvin Yarrows Memorial Award, and the Borroughs-Wellcome Research Fellowship. He completed a full-year fellowship at the University of Chicago Hospital as the first osteopath under Dr. Henry Finn.
He has been part of the American Osteopathic Association's Young Physicians Committee and the Council on Postgraduate Training. 
Dr. Loniewski is a past chairperson of the Adult Reconstruction Section of the American Osteopathic Academy of Orthopedics and a section chair for the first regenerative medicine seminar. He served on the American Academy of Orthopedic Surgeons/American Osteopathic Academy of Orthopedics clinical guidelines committee. He has served as a research reviewer for Michigan State College of Osteopathic Medicine, the American Osteopathic Academy of Orthopedics, and Henry Ford Hospital. He has had teaching positions with Michigan State University, St. Joseph-Mercy Health Care System, and the University of Michigan. For his dedication to the profession, Dr. Loniewski was granted the title "Fellow" through both the American Osteopathic Academy of Orthopedics and the American College of Osteopathic Surgeons. He has been very active in his local community as past chairperson of the local Chamber of Commerce and numerous charity events. He resides in Brighton, Michigan, with his lovely wife Karen, and is the proud father of four children. He attends Mass regularly at St. Patrick Catholic parish and is a member of the Ann Arbor Chapter of Legatus.